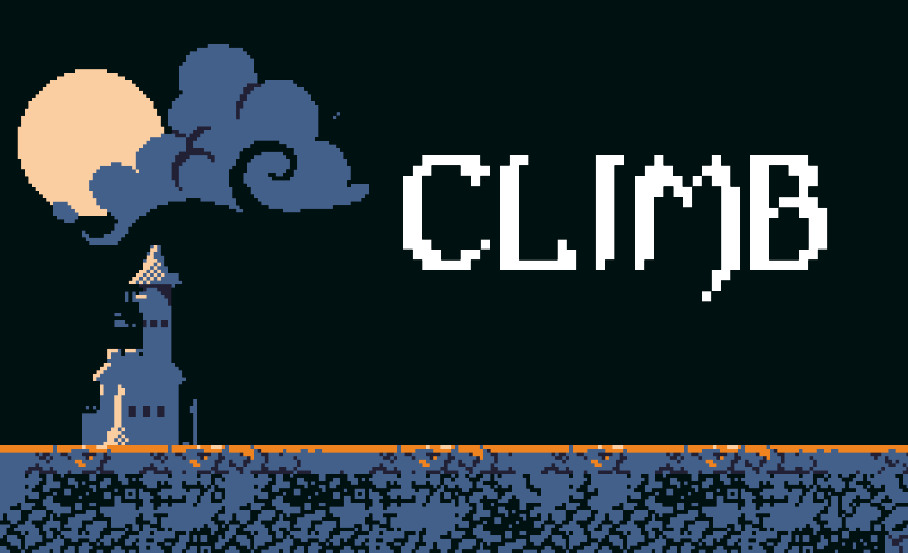 Climb
CLIMB is a bullet-ridden 2D platformer in which you play a knight fighting and climbing out of a prison tower with the help of a magical sword that shoots bullets!
Includes 5 levels of increasing difficulty! Various enemy types! Traps! A unique mechanic where you shoot at the floor to jump higher! Single life challenge!

JunchMakes' first ever micro game release. Hope you enjoy it! Leave your thoughts and comments below.
Supports mouse+keyboard as well as Xbox gamepad. A and D to move left/right, spacebar/W to jump, mouse to look, and mouse left button to shoot. Press R to restart the game if you get stuck (for whatever reason). Good luck!
IMPORTANT NOTE: "Continue" and "Quit" functions do not work in-browser, only in the downloadable.
IMPORTANT NOTE 2: There is a Reduced Screenshake ver. of the game that can be downloaded below if the screenshake is too much.
===
Credits
Code and design - Junch
Art - Sam
===
Some choice player quotes:
"It's too hard, man."
"Holy hell, the difficulty scale."
"We just collectively lost our sh*t when we learnt sword jump."
"Bloody aimbots!"
Download
Click download now to get access to the following files:
Climb-Win-v1.01c (Reduced Screenshake)
2 MB
Comments
Log in with itch.io to leave a comment.
It´s so harddd! I love it! Great graphics as well, simple but cool.
Nice job, but the control are awful ... game pad ? Mouse ? Both ?
I didn't enjoy playing it. But thanks for sharing this !
it have great graphic ( no sound/music ...)

I swear the archers have aimbot lmao-
nice game but why is jump not also up arrow
nice!! this is an amazing first game, i hope u get to release many more c:
thank you so much for the support <3 excited to learn loads more and make more with what I've learnt
Awesome game. I love that it's difficult, makes completing a level so satisfying.
Thank you so much for the support <3 and for understanding why I made it the difficulty that it is :)
Very fun and addicting game. The graphics are so great!
overall a very good game, especially for browser! i only ran into a couple issues while playing:
- is the continue feature supposed to work yet? i just got a black screen
- i got stuck on the wall in level 3 and couldn't get off. is that like a wall climbing feature or a bug?
i think you have a really good game here, with crunchy gameplay, interesting mechanics and nice visuals! the difficulty is spot-on for a retro-styled game as well :)
Thank you so much for your kind words! I also noted you RT-ed the post on Twitter <3 Really appreciate the support. Also thanks for the feedback, will look into the spikes on Level 2.
I realized the "Continue" feature certainly doesn't work on browser - only on the download version. I'll fix that in a patch in the A.M.

Getting stuck is an unintended side effect of the collisions which I'll look into as well. Thanks SO MUCH for the feedback. Really appreciate the time you took to write in.
sounds great!
ah haha i figured it was something like that. are your collisions hand-coded?
of course! i know it's super helpful to get feedback from real players so figured i'd try and help :)